WIA DX Awards General Information

DXCC Program

---

WIA Online Awards System

---

DXCC Awards

General Awards
Getting Started
The WIA award system has instructions on each page, but this material provides you with the top level system view. It describes the process from entering QSOs into your log to receiving your award certificate.
Block Diagram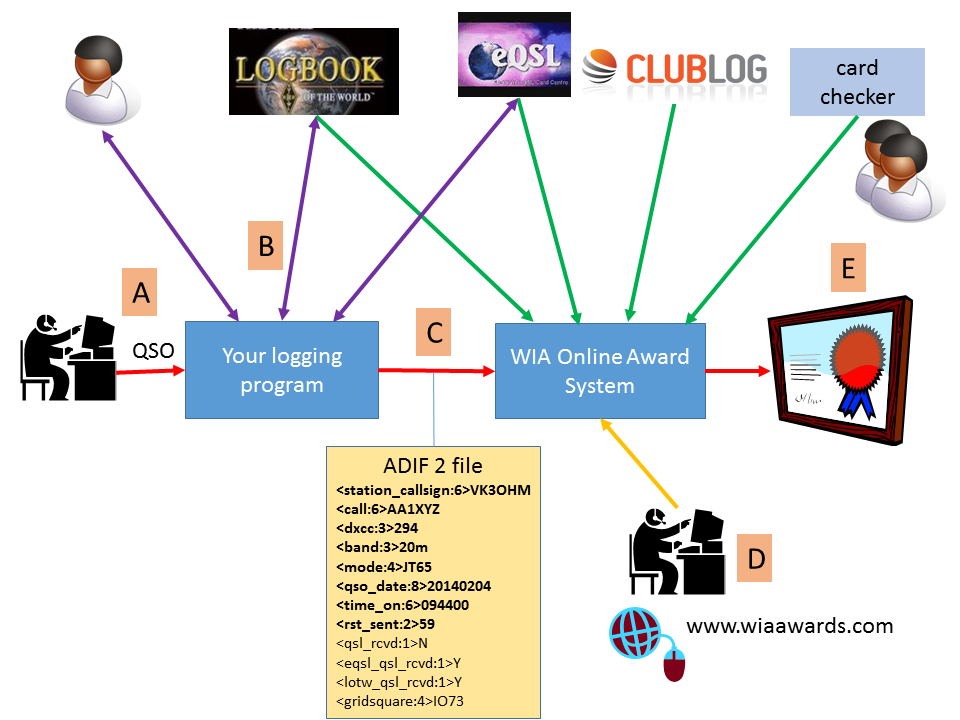 Step by Step
You enter QSOs into your logging program.
Send and receive QSLs


You send QSL to contacted parties via Paper, eQSL and LOTW.
You receive QSL via Paper, eQSL and LOTW and record them in your log. Most loggers allow you to download the QSL. Paper has to be entered manually. QSL in your log are a claim to have a QSL. All claims must be verified within the award system.

You export your log to an ADIF 2 file. Most modern loggers support ADIF 2. ADIF 1 format does not support eQSL and LOTW QSL. ADIF 1 is OK if you only use Paper. It must contain the bold ADIF fields. Others are optional. Import the ADIF file into Award system.
Verify all your unverified QSOs.

Use "Verify DXCC" to verify the DXCC number at Clublog. If you have DXCC errors, correct your log, export ADIF, and import again.
Use "Verify eQSL" to verify any eQSL.
Use "Verify LOTW" to verify any LOTW QSL.
Nominate up to two amateurs in your profile to confirm your paper QSL. Only 1 card checker is required.
You can upload your full log at any time. If DXCC has not been verified, or QSLs have not been verified, then they will be updated.

Use "Show Award Status" to check which awards you qualify for. Click "Apply" to apply for an award. When approved, you will be able to download and print a PDF of your award certificate.